New Roadmap Provides Blueprint for 21st Century Prosecutors
FJP, in partnership with the Brennan Center for Justice and The Justice Collaborative, released 21 Principles for the 21st Century Prosecutor — a new blueprint to guide prosecutors committed to moving away from past incarceration-driven approaches and advancing new thinking that promotes prevention and diversion and increases fairness in the criminal system. Read 21 Principles for the 21st Century Prosecutor and the press release announcing the release of this important guidance for prosecutors.
Seventy Criminal Justice Leaders Denounce Attorney General Barr's Remarks to Fraternal Order of Police
A new generation of prosecutors and law enforcement leaders are working together to create a compassionate, equitable and effective justice system. That's why 70 current and former prosecutors, law enforcement and judicial leaders from across the country have repudiated Attorney General William Barr's attack on reform-minded prosecutors whose data-backed approaches to criminal justice have decreased incarceration and promoted public safety. In the statement, signatories correct patently false claims made by AG Barr and caution against a return to past failed "tough on crime" approaches. For more, read the press release and full statement.
"In a time when we are finally making progress on meaningful reform that can help us fortify trust within our communities, we must lead with facts and best practices that move us into the 21st century rather than return us to a bygone era grounded in fear."
– Boulder County Sheriff Joe PelLE
Over 40 Elected Prosecutors Push Back Against Attempt to Strip Circuit Attorney Kim Gardner of Ability to Correct Unjust Convictions
A prosecutor has a duty to investigate and remedy injustice. That's why 43 elected prosecutors from across the country filed an amicus curiae brief urging the Circuit Court for the City of St. Louis to respect the power and obligation of prosecutors to investigate and remedy cases where wrongful convictions have occurred. The brief is in response to the court's apparent decision to appoint the Missouri State Attorney General as the State's co-representative in Missouri v. Lamar Johnson after CA Gardner filed a motion for a new trial based upon evidence of actual innocence and police and prosecutorial misconduct uncovered by her office's Conviction Integrity Unit (CIU). Amici argue that the appointment of the AG is an improper intrusion on CA Gardner's duty to represent the citizens of St Louis. They also argue that under the court's ruling potentially innocent people would be left behind bars with no avenue for relief and CIUs would be prevented from fulfilling their intended function. For more, read the press release and full brief.
"An uncorrected wrongful conviction is not simply in tension with the very essence of [a prosecutor's] responsibility to do justice; it presents a greater threat to the public's faith and trust in its local government officials and the justice system."
Over 40
Elected Prosecutors and Attorneys General Call Upon Department of Justice to Respect Prosecutorial Discretion
Prosecutors are ministers of justice charged with protecting their community and the integrity of the justice system. That's why forty-three local elected prosecutors and state Attorneys General from across the country filed an amicus curiae brief in response to Attorney General Barr's call for feedback on a potential rule change that would give federal authorities unlimited ability to consider past convictions and sentences as grounds for deportation from the United States, even when those convictions are minor or deemed unjust and have been vacated or modified by local prosecutors or judges. Amici argue that the proposed rule change would break with decades of precedent, infringe on state sovereignty, and impair the ability of elected prosecutors to enforce their own criminal laws and exercise prosecutorial discretion in the interest of their own community's safety. It would also put countless immigrants at new risk of deportation, including in cases where past convictions and sentences were revisited based on defects in the underlying cases. Read the press release here and full brief here.
More Than 60 Criminal Justice Leaders Support Overdose Prevention Sites as Critical Tools to Save Lives
With an overdose crisis that grows daily, more and more criminal justice leaders are coming to the conclusion that different approaches to address substance use disorder are needed. This growing commitment to a public health response led more than 60 criminal justice leaders to join an amicus brief filed in United States v. Safehouse in the United States District Court for the Eastern District of Pennsylvania. In the brief, amici argue that the criminalization of substance use disorder only exacerbates the adverse impacts of drug use and erodes community trust in law enforcement. They further assert that harm reduction models, including overdose prevention sites, are a more effective response and save lives. Read the press release here and full brief here.
"I have a duty to protect the health and safety of every member of my community. Yet, when it comes to opioid use, we are hampered in that effort by a system that looks to outdated criminal justice responses, rather than the public health strategies we know work."
– PHILADELPHIA DISTRICT ATTORNEY LARRY KRASNER
Elected Prosecutors Use their Discretion and Refuse to Enforce Abortion Bans
42 elected prosecutors joined in a statement making clear their collective view that prosecutors should use their discretion and refuse to criminalize abortion decisions. Noting recently enacted laws that seek to ban abortions, the statement argues that these laws violate constitutionally-protected rights and create untenable choices for women and healthcare providers. The statement notes that community trust is the foundation for a functioning justice system and discusses why prosecutors should use their discretion to decline to prosecute personal healthcare decisions that have been protected by settled law for nearly 50 years. Reach out to FJP here if you are a prosecutor interested in joining the statement. Read the press release.
"Elected prosecutors exercise their weighty discretion every day when choosing which charges, cases, and societal challenges to focus on. At the heart of these decisions is the question: How do I use my resources to bring about justice and make our communities safer? Criminalizing personal health decisions would fail to bring about justice and would harm rather than protect the community."
– Ingham County (Lansing, MI) Prosecuting Attorney Carol Siemon
Law Enforcement Leaders and Elected Prosecutors Call for Medication-Assisted Treatment for Individuals in Custody Struggling with Substance Use
Law enforcement and criminal justice leaders joined in a letter calling for the expansion of medication-assisted treatment (MAT) for individuals in county jails and prisons dealing with opioid use challenges. The letter – signed by 58 current and former elected local sheriffs, current elected prosecutors and other law enforcement leaders – cites extensive research that demonstrates the benefits of MAT in increasing long-term recovery rates and preventing fatal overdoses upon release, underscoring the value of bringing life-saving harm reduction practices to correctional settings everywhere. Read the press release and letter.
"A prosecutor's role does not end at the prison door. As members of the community tasked with enhancing public safety, we are obligated to use our voices to ensure in those instances when people absolutely must be incarcerated, they leave custody in a position to safely reenter their communities."


– Chittenden County (VT) State's Attorney Sarah George
Criminal Justice Leaders Speak Out in Support of Reforms to Address Past Injustices
Criminal justice leaders from around the nation spoke out in support of Baltimore City State's Attorney Marilyn Mosby's efforts to ensure that prosecutors have a legal mechanism to correct past instances of injustice. The statement – joined in by 55 current and former elected prosecutors, and other law enforcement and criminal justice officials – underscores the obligation of prosecutors, as "administrators of justice," to zealously pursue justice at all times, including by addressing and remedying past convictions and dispositions that no longer represent a fair or just result.
Legal Experts Rally Behind California Law to Keep More Kids Out of the Adult Justice System
Over 100 legal scholars from 18 law schools in California joined in a white paper supporting the constitutionality of a new state law that prevents children below the age of 16 from being prosecuted or sentenced in the adult criminal system. As the white paper argues, these sensible reforms are not only constitutional, but also based on what over two decades of brain development research has demonstrated. Children aged 14 and 15 are kids and should be treated as such – not just because it's the right thing to do, but because it is the best way to promote long term public safety.
Amicus Brief with Over 80 Signators Challenges Money Bail as Unconstitutional in Federal Appellate Court Case
Over 80 criminal justice leaders – including over 40 current and former prosecutors, Attorneys General, and former U.S. Attorneys and judges representing 33 states and D.C. – filed an amicus brief in the 5th Circuit Court of Appeals. Amici argue that Dallas County's practice of detaining individuals pretrial based solely on their inability to pay pre-determined bail amounts is unconstitutional. Read the press release here and brief here.
"[Cash bail] leads to the unnecessary and unconstitutional detention of people who are indigent, deepens the cycle of poverty, disparately impacts Black and Latinx communities, and eviscerates public trust in the justice system. We can and must do better, and that means we must challenge the money bail system wherever it exists."

— SUFFOLK COUNTY (BOSTON, MA) DISTRICT ATTORNEY RACHAEL ROLLINS
Criminal Justice Leaders Rally Behind Efforts to Identify Police Officers with Credibility Problems
Fifty-nine current and former elected prosecutors and law enforcement leaders banded together in support of St. Louis Circuit Attorney Kim Gardner's creation of a confidential Brady list (also sometimes known as a "do not call" or "exclusion" list) that identifies law enforcement officials with credibility issues who are unfit to serve as witnesses.  The joint statement notes that this is a well-established best practice employed by prosecutors throughout the nation to ensure the integrity of the justice system. Read the press release and full statement.
"The Brady obligation dates back to 1963, is well-established case law and is non-negotiable."

–FORMER SOLICITOR GENERAL SETH WAXMAN
Elected Prosecutors Offer Insight into Prosecution's Changing Landscape and Opportunities for Reform
Newly elected and veteran prosecutors came together in Houston for FJP's annual convening. Over the two-day meeting, prosecutors heard from experts, advocates and people with lived experience in the criminal justice system to identify challenges and solutions to advancing reform within their jurisdictions. Additionally, attendees held a press conference to reflect on prosecution's changing landscape and to share a new vision for prosecution to guide the work of 21st Century prosecutors committed to common-sense, compassionate criminal justice reforms. Read the release.
"People from all walks of life agree that criminal justice reform makes us safer. Those who seek to maintain the status quo too often create a false choice between reform and public safety. A fair system improves public trust, and responsible use of taxpayer resources leads to healthier communities."

— HARRIS COUNTY (HOUSTON, TX) DISTRICT ATTORNEY KIM OGG
Prosecutors Lead in Forging New Responses to the Opioid Overdose Crisis 
Elected district attorneys and senior staff traveled to Vancouver and Seattle to learn more about the benefits of harm reduction approaches, including overdose prevention sites and Law Enforcement Assisted Diversion (LEAD). Over the three-day visit, attendees met with medical professionals, individuals with lived experience and law enforcement officials to explore better responses to the opioid epidemic that can save lives and keep people out of jails and prisons. Read the press release.
"Vermont had an unprecedented number of overdose fatalities in the last year, and an overwhelming body of research indicates that overdose prevention sites are an effective intervention that can move us beyond this disheartening status quo."

— CHITTENDEN COUNTY (VT) STATE'S ATTORNEY SARAH GEORGE 
Prosecutors and Law Enforcement Leaders Call for an End to Cash Bail in California 
Over 50 current and former prosecutors and law enforcement leaders joined an amicus brief in support of an indigent defendant's challenge to the constitutionality of California's money bail system. Amici—which include 26 currently sitting elected prosecutors—argue that money bail systems are not only unconstitutional, but also erode public trust in the justice system, waste taxpayer resources, and lead to tremendous damage to individuals detained based simply on an inability to pay their bail. This position aligns with that advanced by both petitioner, San Francisco DA George Gascon, and the respondent in the case. Read the press release and full brief.
Criminal Justice Leaders Support Unit to Review Past Convictions and Correct Injustices
Over 50 current and former elected prosecutors, state Attorneys General, and law enforcement leaders joined together in supporting District Attorney Mark Dupree's efforts to create a Conviction Integrity Unit (CIU) in the Wyandotte County DA's Office. Their joint statement outlines why CIUs are a recognized best practice for prosecutors to review and respond to instances of injustice, including claims of innocence, in a way that promotes enhanced accountability and transparency. Read the press release here and letter here.
"We should applaud prosecutors' efforts to re-examine cases where the integrity of a conviction is at issue and recognize that everyone in our justice system bears the responsibility for a miscarriage of justice."

–– Tucson (AZ) Police Chief Chris Magnus
Prosecutors and Law Enforcement Leaders Call for Ending the Overuse of Probation and Parole
Forty-five current and former DAs, AGs and prosecutor leaders joined more than 70 other prominent law enforcement, criminal justice, and community corrections leaders and organizations as signatories to a statement urging the enactment of changes to probation and parole, which currently affect nearly 5 million Americans and are a major contributing factor to unnecessary incarceration. The statement outlines strategies for addressing the harmful impacts of these practices by safely reducing the number of people under community supervision and reinvesting in rehabilitation efforts for those in need of supervision. Read the press release here and full statement here.
"Policies that send someone back to prison simply for technical violations of parole or probation do not keep our communities safer and come at an exorbitant cost to taxpayers… The achievable but impactful reforms outlined in this statement will deliver public safety more effectively and compassionately."

— MILWAUKEE COUNTY DISTRICT ATTORNEY JOHN CHISHOLM
Criminal Justice Groups to Create New Training Approaches For Prosecutors to Promote Prevention and Diversion over Incarceration
FJP and the Brennan Center for Justice at NYU School of Law are partnering to design and implement a new curriculum that will promote new paradigms, help district attorneys reduce incarceration, and seek to change the culture of prosecutors' offices and how prosecutors conceive of their role in the criminal justice system. The curriculum will emphasize public health rather than incarcerative approaches to addressing substance abuse and mental illness; underscore effective interventions to reduce recidivism and racial disparities; and develop strategies for prosecutors to enhance community trust in the justice system.  Read the full press release here and read the recent op ed by FJP Executive Director and FJP's new Training and Curriculum Advisor and Brennan Center Senior Fellow Lauren-Brooke Eisen here.
"Prosecutors across the country are recognizing it's time for change. We should be reorienting work towards goals built from decades of lessons learned, like reducing the number of people behind bars while improving public safety. As criminal justice reform groups continue to push for sentencing reform to fix our nation's overly-punitive culture, we believe that the work can begin right now with the lawyers on the front lines…."

– Lauren-Brooke Eisen, Brennan Center Senior Fellow/FJP Training and Curriculum Advisor
Law Enforcement Leaders and Prosecutors File Amicus Brief Defending DACA as Critical Tool for Promoting Public Safety and Community Trust
In an amicus brief filed in the Ninth Circuit Court of Appeals, over 60 law enforcement leaders – including 28 current Police Chiefs, Sheriffs, DAs and other elected prosecutors – argue that the Deferred Action for Childhood Arrivals (DACA) program advances public safety by promoting trust between law enforcement and their communities. The program, which gives long-term residents protection from deportation, helps maintain the open communication and positive relationships necessary for immigrants to feel comfortable cooperating with law enforcement efforts to identify, respond to, and solve crimes. Read the press release here and full brief here.
"Rescinding DACA would be a devastating step backwards as my officers work to build trust with immigrant communities."

– Chief Chris Magnus, Tucson (Arizona) Police Department
Amicus Brief Stresses that Children are Different and Argues for Review of 241-Year Juvenile Sentence 
In an amicus brief filed with the Supreme Court, 75 prominent former judges, Solicitors General, current and former prosecutors, corrections and Probation leaders, and law enforcement officials argue that sentencing a 16-year-old boy to 241 years in prison for a nonhomicide offense is unconstitutional. As their brains develop, young people have the ability to mature, reform, and grow. The brief argues that this sentence ignores the latest brain science, fails to promote the interests of justice, and is at odds with Supreme Court precedent. Read the press release here and full brief here.
"Condemning a juvenile involved in a nonhomicide case to die in prison – with no opportunity for release – is unjust and irreconcilable with Supreme Court case law."

– Ingham County (Lansing, MI) Prosecuting Attorney Carol Siemon
Amicus Brief 
Pushes Back on Efforts To Entangle Local Jurisdictions in Immigration Enforcement
FJP, the Institute for Constitutional Advocacy and Protection at Georgetown Law School, and Hughes Socol Piers Resnick & Dym, Ltd. organized an amicus brief supporting California's challenge to U.S. Justice Department requirements that seek to tie essential federal grant funding for local law enforcement initiatives to immigration activities. Thirty-five prosecutor and law enforcement leaders from around the nation, representing nearly 30 million people, signed the brief noting that, "community trust and cooperation are essential to public safety." Click here to read the press release and here to read the amicus brief.
"It is encouraging to see prosecutors and law enforcement leaders from around the nation standing together and speaking out definitively about their grave concerns with federal policies that threaten to deepen the divide between law enforcement and the immigrant communities they are entrusted to protect."

– Miriam Aroni Krinsky, FJP Executive Director
Teaming Up for Justice
Four-time WNBA champion Maya Moore, Kansas City (Kansas) DA Mark Dupree and FJP's Executive Director Miriam Krinsky talk with former NBA star Jerry Stackhouse about the impactful role of prosecutors in advancing criminal justice reforms. Watch the video here.
 "We have to know that there are consequences to our actions."   

– Wyandotte County (Kansas City, KS) District Attorney Mark Dupree
Fair and Just Prosecution Awarded Inaugural Art for Justice Grant
Fair and Just Prosecution is proud to be joining other esteemed criminal justice advocates, thinkers and partners as an inaugural grant recipient of the Art For Justice Fund. The grant was made possible through a generous donation by philanthropist Agnes Gund to the Ford Foundation, which administers the Art for Justice program. Read more here.
Chan Zuckerberg Initiative Announces Support for Fair and Just Prosecution
Fair and Just Prosecution is the recipient of a generous grant from The Chan Zuckerberg Initiative. The grant will help support FJP's work as it brings together a network of elected prosecutors committed to developing new thinking and innovation in the criminal justice system. Read more from CZI here and read the press release regarding the grant here.
Amicus Brief on the Need for Bail Reform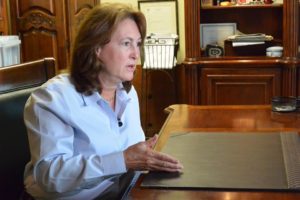 Nearly 70 current and former elected prosecutors – including 16 current elected DAs and AGs and officials from over 30 states – filed a brief supporting litigation challenging cash bail practices in Harris County, Texas and arguing that detaining poor misdemeanor defendants pending trial, solely due to an inability to post bail, erodes community trust and does not further public safety. Read the press release here and the Amicus Brief here.
Amicus Brief on Prosecutorial Independence
More than 40 current and former elected prosecutors and criminal justice officials filed an amicus brief in support of 9th Judicial Circuit (Orlando, FL) State Attorney Aramis Ayala's exercise of prosecutorial discretion in deciding whether or not to seek the death penalty. Read the press release here and the Amicus Brief here.
Prosecutors Push Back on Using the Death Penalty as Leverage in Plea Bargaining
A group of over 30 current and former prosecutors as well as former high-level DOJ officials signed a letter responding to arguments that the death penalty should be maintained to give prosecutors "leverage" in plea negotiations. The signatories point out that this practice is unethical and risks increasing the likelihood of unjust and unreliable convictions. Read the full letter here.
"Our experience as prosecutors has shown us that whatever one thinks about the death penalty, it is simply wrong to use it as a tool or "threat" to coerce a plea. That is not justice and it is not what our system of laws should embrace."
Statement Regarding Florida Supreme Court Ruling in Ayala v. Scott – Standing Up for Prosecutorial Independence
FJP issued a statement supporting Aramis Ayala's prerogative as an elected prosecutor to exercise her prosecutorial discretion to determine whether or not to pursue a given punishment, including the death penalty. Read the statement here.