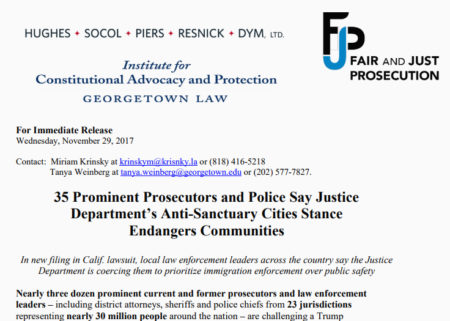 Amicus Brief 
Pushes Back on Efforts To Entangle Local Jurisdictions in Immigration Enforcement
FJP, the Institute for Constitutional Advocacy and Protection at Georgetown Law School, and Hughes Socol Piers Resnick & Dym, Ltd. organized an amicus brief supporting California's challenge to U.S. Justice Department requirements that seek to tie essential federal grant funding for local law enforcement initiatives to immigration activities. Thirty-five prosecutor and law enforcement leaders from around the nation, representing nearly 30 million people, signed the brief noting that, "community trust and cooperation are essential to public safety." Click here to read the press release and here to read the amicus brief.
"It is encouraging to see prosecutors and law enforcement leaders from around the nation standing together and speaking out definitively about their grave concerns with federal policies that threaten to deepen the divide between law enforcement and the immigrant communities they are entrusted to protect."

— Miriam Aroni Krinsky, FJP Executive Director
Teaming Up for Justice
Four-time WNBA champion Maya Moore, Kansas City (Kansas) DA Mark Dupree and FJP's Executive Director Miriam Krinsky talk with former NBA star Jerry Stackhouse about the impactful role of prosecutors in advancing criminal justice reforms. Watch the video here.
 "We have to know that there are consequences to our actions."   

— Wyandotte County (Kansas City, KS) District Attorney Mark Dupree
Fair and Just Prosecution Awarded Inaugural Art for Justice Grant
Fair and Just Prosecution is proud to be joining other esteemed criminal justice advocates, thinkers and partners as an inaugural grant recipient of the Art For Justice Fund. The grant was made possible through a generous donation by philanthropist Agnes Gund to the Ford Foundation, which administers the Art for Justice program. Read more here.
Chan Zuckerberg Initiative Announces Support for Fair and Just Prosecution
Fair and Just Prosecution is the recipient of a generous grant from The Chan Zuckerberg Initiative. The grant will help support FJP's work as it brings together a network of elected prosecutors committed to developing new thinking and innovation in the criminal justice system. Read more from CZI here and read the press release regarding the grant here.
Amicus Brief on the Need for Bail Reform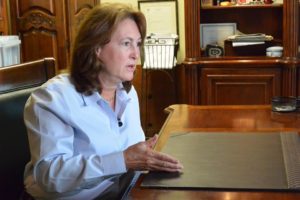 Nearly 70 current and former elected prosecutors – including 16 current elected DAs and AGs and officials from over 30 states – filed a brief supporting litigation challenging cash bail practices in Harris County, Texas and arguing that detaining poor misdemeanor defendants pending trial, solely due to an inability to post bail, erodes community trust and does not further public safety. Read the press release here and the Amicus Brief here.
Amicus Brief on Prosecutorial Independence
More than 40 current and former elected prosecutors and criminal justice officials filed an amicus brief in support of 9th Judicial Circuit (Orlando, FL) State Attorney Aramis Ayala's exercise of prosecutorial discretion in deciding whether or not to seek the death penalty. Read the press release here and the Amicus Brief here.
Statement Regarding Florida Supreme Court Ruling in Ayala v. Scott – Standing Up for Prosecutorial Independence
FJP issued a statement supporting Aramis Ayala's prerogative as an elected prosecutor to exercise her prosecutorial discretion to determine whether or not to pursue a given punishment, including the death penalty. Read the statement here.