Information and Resources
FJP Police Accountability Brief
Prosecuting attorneys' relationship to local law enforcement, including their responses to allegations of officer misconduct, is an area of profound community concern and increasing public scrutiny. This FJP "Issues at a Glance" brief addresses how prosecuting attorneys can best ensure constitutional and legal policing in their jurisdictions and seek criminal accountability, where appropriate, for police officers who have violated the law.
FJP Procedural Justice Brief
Research shows that court participants are more likely to comply with court orders and follow the law in the future when they perceive the court process to be fair. This FJP "Issues at a Glance" brief suggests strategies for strengthening community trust by improving the fairness of procedures that defendants and community members experience during a criminal investigation or prosecution. From simple measures such as using plain language whenever possible, to efforts aimed at reducing implicit bias, prosecutors can increase the legitimacy of their work in the eyes of the communities they serve.
Speaking Out
"Let Prosecutors Protect the Integrity of the Justice System"
When police officers have a history of serious credibility issues, it is the responsibility of the prosecutor to know who they are and to take steps to ensure they are not relied upon as witnesses. In a St. Louis Post-Dispatch op-ed, FJP Executive Director Miriam Krinsky, Tucson Police Chief Chris Magnus, and Co-Chairman of Law Enforcement Leaders to Reduce Crime & Incarceration Ronal Serpas outline the importance of Brady lists—a nationally recognized best practice used by prosecutors to systematically track such officers and thereby ensure the integrity of the criminal justice system and promote community trust.
"Prosecutors have a duty to seek justice and advance the truth – and that includes not putting witnesses who lack credibility on the stand."
"Guilty Verdict in Van Dyke Case Reinforces Need For Transparent Policing"
A USA Today op-ed by FJP Executive Director Miriam Krinsky highlights reforms aimed at increasing transparency in, and improving accountability of, police departments. As evidenced by the guilty verdict in the case of former Chicago police officer Jason Van Dyke, these reforms are a critical part of rebuilding public trust and confidence in police and the broader justice system. 
"Transparency serves everyone: The citizens who need  and deserve  to trust their local police, prosecutors who are seeking justice for their communities, and police officers who cannot do their jobs without having the faith of those they serve."

– FJP Executive Director Miriam Krinsky
"
As DOJ Rolls Back Monitoring of Police Conduct, More Prosecutors Should Step Up Their Efforts

"

USA Today op-ed in which Christy Lopez, former Deputy Chief of U.S. Department of Justice Civil Rights Division, and Fair and Just Prosecution Executive Director Miriam Krinsky discuss the key role of prosecutors in curbing police misconduct and upholding community trust.
"Trust Between Law Enforcement and Communities is Key to Public Safety"
Georgetown Law Professor Joshua Geltzer and Fair and Just Prosecution Executive Director Miriam Krinsky write in The Hill about local law enforcement policies that seek to avoid entanglement in immigration enforcement issues and that recognize the importance of longstanding principles of community policing and trust-building practices as a fundamental predicate for advancing public safety.
"District Attorney's Job More Than Prosecution"
Wyandotte County (Kansas City, KS) District Attorney Mark Dupree talks about how his job includes elements beyond prosecuting crimes, including community engagement and crime prevention. Read more here.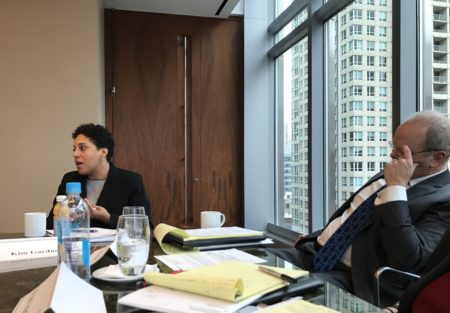 "100 Days in, St. Louis Circuit Attorney Focuses on Strengthening Police, Community Ties"
St. Louis (MO) Circuit Attorney Kim Gardner devoted most of her first weeks in office to efforts aimed at improving relationships between law enforcement and people of color. Read more here.
Examples of Innovation
"Denver DA Beth McCann Promotes Renewed Commitment to Equal Application of Justice"
Denver (CO) District Attorney Beth McCann, upon assuming office, provided all members of her office with copies of the book "The New Jim Crow: Mass Incarceration in the Age of Color Blindness" by Michelle Alexander. Read more here.
"DA's New Plan for Cop Shootings"
Bernalillo County (Albuquerque, NM) District Attorney Raúl Torrez announced a new plan for handling police shooting cases, referring cases to a District Attorney Review Panel made up of DAs from around the state. Read more here.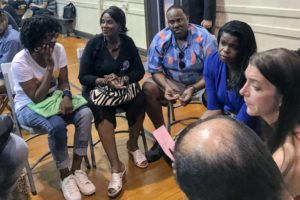 "State's Attorney Foxx Announces Special Prosecution Legislation"
Cook County (Chicago, IL) State's Attorney Kim Foxx announced a proposed amendment to the Special Prosecutor Act to allow the State Appellate Prosecutor to investigate and pursue fatal officer-involved shooting cases in instances where the State's Attorney decides not to charge the officer. Read more here.