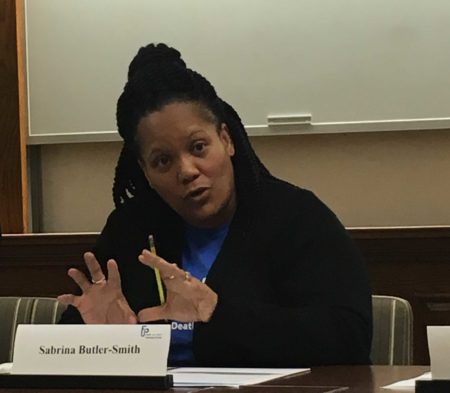 Fair and Just Prosecution Holds Convening on Promoting Accountability and Integrity
Fair and Just Prosecution hosted a candid conversation among exonerees, national experts in criminal justice, and elected prosecutors to discuss strategies aimed at enhancing accountability and transparency in prosecutors' offices. Click here to learn more about the event.
"I am the 100th former death row inmate freed since 1976 because of innocence, but I will not be the last. I am heartened that we have elected prosecutors who are willing to take a hard look at past mistakes and take to heart how we avoid these injustices from reoccurring."

—Ray Krone, Co-Founder of Witness to Innocence
Fair and Just Prosecution and Harvard Law's Criminal Justice Policy Program Co-Host Briefing on FBI 2016 National Crime Statistics
National experts including Brooklyn (NY) Acting District Attorney Eric Gonzalez offered insights on the newly released FBI crime statistics. Listen to the briefing.
"Since being on the front lines in the 1990s, it has turned out that being smart on crime, and using data-driven solutions, has been so much more effective than being tough on crime…. We cannot arrest ourselves out of violence."

—Chief J. Scott Thompson, Camden County (New Jersey) Police Department
Open Letter to Attorney General Jeff Sessions Regarding Charging and Pleading Practices
Current and former elected prosecutors representing over 30 million Americans sent an open letter to Attorney General Sessions expressing concern that a return to failed "tough on crime" practices would increase incarceration without making our communities safer.
Washington Post: "Prosecutors Are Pushing Back Against Sessions Order to Pursue Most Severe Penalties"
Article references open letter released by FJP and expressing concerns by a bipartisan group of over 30 state and local elected prosecutors with Attorney General Sessions' order that federal prosecutors pursue the most severe penalties allowable. Read more here. 
NY Times Editorial: "Lurching Backward on Justice Reform"
A New York Times editorial notes the letter by 31 current and former prosecutors pushing back against Attorney General Sessions' charging and pleading directive.
LA Times Editorial: "As Sessions Fails To Curb Police Misconduct and Draconian Prosecution, States Step Up"
LA Times editorial notes recent bail reform amicus brief and Sessions open letter and underscores the new generation of prosecutors stepping up in a host of areas as champions of justice and change.