FJP Hosts Learning Trip to Germany and Portugal for Elected Prosecutors
In May 2019, FJP traveled to Germany and Portugal with reform-minded elected prosecutors from across the United States to study innovative global approaches to improving justice and fairness and bring that thinking home.
They spent a week in Berlin, Germany exploring new thinking around juvenile and young adult justice, reducing incarceration and more compassionate and effective conditions of confinement. They met with criminal justice leaders and advocates, visited NGOs, observed court hearings and toured correctional facilities. Prosecutors also spent a week in Lisbon, Portugal learning from public health and criminal justice leaders about harm reduction and the extraordinary success of the "Portuguese experiment" – Portugal's 2001 decision to decriminalize personal use of all drugs.
Read more about the trip in our "FJP On the Road" blog series – including our opening and closing dispatches from Germany and our final reflection on our time in Portugal – as well as our pre- and post trip releases here and here.
Prosecutors, Leading Experts and Advocates Gather to Discuss Conviction Integrity Best Practices and Innovations
On March 25, 2019, FJP welcomed elected prosecutors to NYU School of Law in partnership with the Innocence Project, NYU's Center on the Administration of Criminal Law and the Brennan Center for Justice, to discuss the importance of pursuing the interests of justice looking both forward and backward. Individuals who have been exonerated shared their stories, and prominent experts on identifying and addressing wrongful convictions shared emerging best practices and innovations, during a day of candid discussion and collaboration aimed at protecting the integrity of convictions and avoiding wrongful convictions in the future. Read more here.
Elected Prosecutors Offer Insight into Prosecution's Changing Landscape and Opportunities for Reform
In December 2018, newly elected and veteran prosecutors came together for FJP's annual convening. Over the two-day meeting, prosecutors heard from experts, advocates and people with lived experience in the criminal justice system, to identify challenges and forge solutions for advancing reform within their jurisdictions. Additionally, attendees held a press conference to reflect on the changing landscape within the field of prosecution and to share a new vision to guide the work of 21st Century prosecutors committed to common-sense, compassionate criminal justice reforms. Read the release.
"In too many instances, the system has shown itself to be inflexible in a way that compounds inequities and has locked far too many people into a cycle of incarceration. Now, we are seeing a bipartisan shift in thinking, with bold leaders from across the political spectrum coming together to create a more equitable and fair system that promotes safer, healthier communities."

—WYANDOTTE COUNTY (KANSAS CITY, KS) DISTRICT ATTORNEY MARK DUPREE
New Publication Provides Blueprint for the Field of Prosecution
FJP, in partnership with the Brennan Center for Justice, The Justice Collaborative and Emily Bazelon of The New York Times and Yale Law School, released 21 Principles for the 21st Century Prosecutor — a new blueprint to guide prosecutors committed to moving away from past incarceration-driven approaches and advancing new thinking that promotes prevention and diversion from the justice system and increases fairness. Read 21 Principles for the 21st Century Prosecutor and the release announcing this important guidance for the field of prosecution.
"The 21st century prosecutor is focused on building a new vision for the justice system grounded in fairness, compassion and common-sense. These 21 Principles provide a bold roadmap for prosecutors as they pursue new paradigms that promote safer and healthier communities."

—FJP EXECUTIVE DIRECTOR MIRIAM KRINSKY
Prosecutors Lead in Forging New Responses to the Opioid Overdose Crisis
Elected district attorneys and senior staff traveled to Vancouver and Seattle to learn more about the benefits of harm reduction approaches, including overdose prevention sites and Law Enforcement Assisted Diversion (LEAD). Over the three-day visit in October 2018, attendees met with medical professionals, individuals with lived experience and law enforcement officials to explore better responses to the opioid epidemic that can save lives and keep people out of jails and prisons. Read more here.
"Vermont had an unprecedented number of overdose fatalities in the last year, and an overwhelming body of research indicates that overdose prevention sites are an effective intervention that can move us beyond this disheartening status quo."

—CHITTENDEN COUNTY (VT) STATE'S ATTORNEY SARAH GEORGE
Reimagining the 21st Century Prosecutor
In August 2018, FJP convened elected prosecutors and leading criminal justice experts at NYU School of Law to reimagine what it means to be a "21st Century Prosecutor." Leaders from around the nation came together to develop concrete ideas for how prosecutors can address inequities in the justice system and proactively engage communities. Prosecutors met with researchers, advocates and experts to discuss how to translate their vision into action, address racial disparities, and implement sustainable culture change through experiential learning tools, community engagement strategies, and different measures of "success." Read more here.
FJP Convenes Prosecutors and Experts at Georgetown To Rethink Juvenile and Young Adult Justice
Elected prosecutors and leading practitioners in the fields of juvenile and young adult justice gathered at Georgetown University in June 2018 for a convening hosted by FJP, D.C. Attorney General Karl A. Racine and the Center for Juvenile Justice Reform at Georgetown University to consider best practices and reforms aimed at improving how our justice system attends to the unique needs and challenges of children and young adults. Read this release for more details.
"Prosecutors are uniquely positioned to break the school-to-prison pipeline by helping kids stay in school and ensuring that detention facilities heal, rather than harm. My office is committed to ensuring young people in and out of the justice system receive the resources and positive support they need to have a fair chance at success."

—ATTORNEY GENERAL FOR THE DISTRICT OF COLUMBIA, KARL RACINE
FJP on C-SPAN: FJP Hosts Conversation on Mental Health Reform at NYU School of Law
In April 2018, FJP and NYU School of Law's Center on the Administration of Criminal Law convened elected leaders to discuss how prosecutors can promote reforms that treat, rather than criminalize, mental illness. In addition to elected prosecutors, the discussion included mental health experts from across the country who shared their perspectives on different models of effective public health responses to address mental illness. Watch a portion of the convening on C-SPAN here.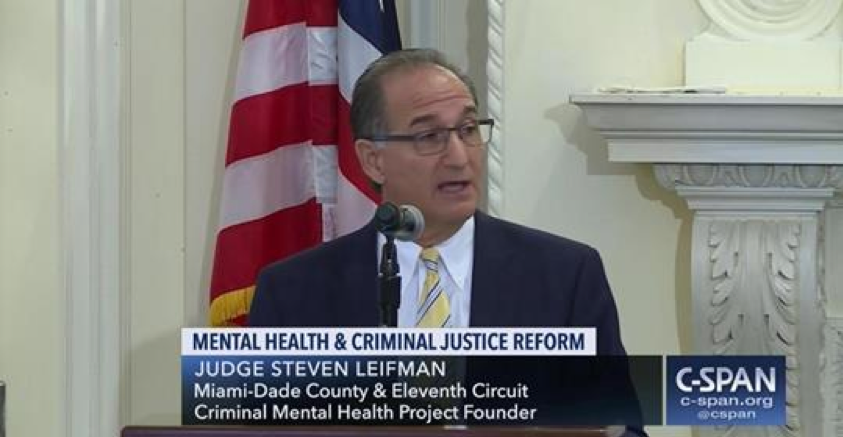 Criminal Justice Leaders and Mental Health Experts Gather to Explore Mental Health Innovation
In March 2018, FJP convened elected prosecutors and criminal justice leaders from across the country in Miami, Florida to learn about the innovative Miami-Dade Criminal Mental Health Project. National experts and prosecutors discussed how police, behavioral health providers, and criminal justice leaders can work together to improve community health and safety by treating, rather than criminalizing, mental illness. Read more about the prosecutor's role in mental health reform in this op-ed, by FJP Executive Director Miriam Krinsky and 11th Judicial Circuit (FL) Associate Administrative Judge Steven Leifman.
"We know that excessively incarcerating people with mental illness is not making our communities safer. It's making them sicker — at an enormous human and financial cost. It's time for prosecutors to step up and lead the national movement for more compassionate and effective mental-health and criminal-justice systems."

—FJP EXECUTIVE DIRECTOR MIRIAM KRINSKY AND 11TH JUDICIAL CIRCUIT (FL) ASSOCIATE ADMINISTRATIVE JUDGE STEVEN LEIFMAN
Fair and Just Prosecution Holds Convening on Promoting Accountability and Integrity
Fair and Just Prosecution hosted a candid conversation among exonerees, national experts in criminal justice, and elected prosecutors to discuss strategies aimed at enhancing accountability and transparency in prosecutors' offices. Click here to learn more about the event.
"I am the 100th former death row inmate freed since 1976 because of innocence, but I will not be the last. I am heartened that we have elected prosecutors who are willing to take a hard look at past mistakes and take to heart how we avoid these injustices from reoccurring."

—Ray Krone, Co-Founder of Witness to Innocence
Fair and Just Prosecution and Harvard Law's Criminal Justice Policy Program Co-Host Briefing on FBI 2016 National Crime Statistics
National experts including Brooklyn (NY) Acting District Attorney Eric Gonzalez offered insights on the newly released FBI crime statistics. Listen to the briefing.
"Since being on the front lines in the 1990s, it has turned out that being smart on crime, and using data-driven solutions, has been so much more effective than being tough on crime…. We cannot arrest ourselves out of violence."

—Chief J. Scott Thompson, Camden County (New Jersey) Police Department
Open Letter to Attorney General Jeff Sessions Regarding Charging and Pleading Practices
Current and former elected prosecutors representing over 30 million Americans sent an open letter to Attorney General Sessions expressing concern that a return to failed "tough on crime" practices would increase incarceration without making our communities safer.
Washington Post: "Prosecutors Are Pushing Back Against Sessions Order to Pursue Most Severe Penalties"
Article references open letter released by FJP and expressing concerns by a bipartisan group of over 30 state and local elected prosecutors with Attorney General Sessions' order that federal prosecutors pursue the most severe penalties allowable. Read more here. 
NY Times Editorial: "Lurching Backward on Justice Reform"
A New York Times editorial notes the letter by 31 current and former prosecutors pushing back against Attorney General Sessions' charging and pleading directive.
LA Times Editorial: "As Sessions Fails To Curb Police Misconduct and Draconian Prosecution, States Step Up"
LA Times editorial notes recent bail reform amicus brief and Sessions open letter and underscores the new generation of prosecutors stepping up in a host of areas as champions of justice and change.