Information and Resources
Diversion Strategies, Programs and Principles – A National Scan
This FJP compendium offers guiding principles for implementing alternatives to incarceration and developing diversion programs. The brief lists a sampling of programs currently in use across the country. When tailored to a jurisdiction's unique needs, these programs can reduce criminal justice costs, limit unnecessary individual contacts with the justice system, and reduce the potentially harmful long-term consequences of such contacts, while also enhancing public safety.
LEAD Diversion — Evaluation Summary
This document reviews findings from four separate evaluations of the LEAD diversion program, reporting recidivism outcomes, criminal justice costs, housing and employment outcomes, and participant perception.
Speaking Out
"District Attorney Discusses L.E.A.D: Law Enforcement Assisted Diversion"
Bernalillo County (Albuquerque, NM) District Attorney Raúl Torrez describes his plan to begin a Law Enforcement Assisted Diversion (LEAD) program that will save money, reduce recidivism, and help keep low-risk individuals out of the criminal justice system. Watch the video here.
"Prosecutive Winds of Change"
King County (Seattle, WA) Prosecuting Attorney Dan Satterberg and FJP Executive Director Miriam Krinsky underscore the important role of prosecutors in promoting a sensible and fair justice system and describe how newly elected local prosecutors are pushing the criminal justice system away from "tough on crime" attitudes and toward new prevention-oriented thinking. Read more here.
Examples of Innovation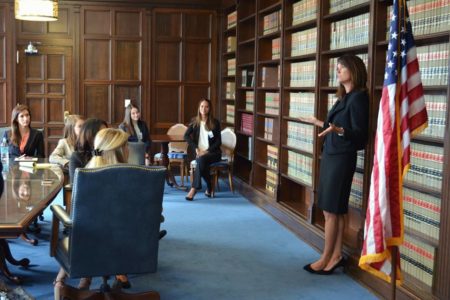 Florida Juvenile Citation Program
4th Judicial Circuit (Jacksonville, FL) State Attorney Melissa Nelson launched a new juvenile citation program, ensuring more youth will participate in Teen Court, where youth will be held accountable with minimal criminal justice system involvement and receive access to appropriate services. Read more here.
New Policy to Divert Marijuana Possession Cases from the Criminal Justice System in Harris County
Harris County (Houston, TX) District Attorney Kim Ogg implemented a new expansive marijuana pre-arrest diversion program. Read more here.
The King County (WA) 180 Program
The 180 Program is a community partnership and pre-filing diversion program that seeks to keep juveniles out of the criminal justice system. Read more here.
Manhattan DA Press Release Ending Criminal Prosecution of Low-Level Subway Offenses
Manhattan NY District Attorney Cy Vance announced his office will no longer criminally prosecute low-level subway misdemeanors unless there is a compelling public safety rationale to do so. Read more here.