Roy L. Austin, Jr.
Mr. Austin began his career as an Honors Trial Attorney with the Criminal Section of the Civil Rights Division of the Department of Justice, investigating and prosecuting hate crime and police brutality cases around the country. In 2000, he joined Keker & Van Nest LLP in San Francisco as an associate working on complex civil and white-collar criminal cases, including a successful pro-bono civil lawsuit aimed at preventing racial profiling by the California Highway Patrol. In 2002, he joined the U.S. Attorney's Office for the District of Columbia where he prosecuted domestic violence, adult and child sexual assault, human trafficking, homicide and fraud and public corruption cases. He left in 2007 to become a partner at McDermott, Will & Emery. In 2009, Mr. Austin returned to the D.C. U.S. Attorney's Office as a Senior AUSA and Coordinator of the D.C. Human Trafficking Task Force.
In January 2010, Mr. Austin was appointed Deputy Assistant Attorney General of the DOJ's Civil Rights Division, where he supervised the Criminal Section and the Special Litigation Section's law enforcement portfolio.  In March 2014, Mr. Austin joined the White House Domestic Policy Council as Deputy Assistant to the President for the Office of Urban Affairs, Justice and Opportunity. In that position, Mr. Austin co-authored a report on Big Data and Civil Rights, worked with the President's Task Force on 21st Century Policing, helped develop the Police Data Initiative, worked on the expansion of reentry assistance, and was a member of President Obama's My Brother's Keeper Task Force.
In 2017, Mr. Austin became a partner at the D.C. law firm Harris, Wiltshire & Grannis, LLP.  And in January 2021, after working on President Biden's DOJ Transition Team, Mr. Austin became the first ever Vice President of Civil Rights and Deputy General Counsel at Meta (formerly known as Facebook).
Mr. Austin received his B.A. from Yale University and his J.D. from The University of Chicago.
Justice Bobbe J. Bridge (ret.)
Justice Bobbe J. Bridge (ret.) is the Founding President and CEO of the Center for Children & Youth Justice, a nonprofit organization she created in 2006 to reform Washington State's child welfare and juvenile justice systems. She served on the Washington State Supreme Court from 2000 to 2008 and on the King County Superior Court from 1990 to 2000, where she was Chief Juvenile Court Judge for three years. She serves as member of the Oversight Board for the WA Department of Children, Youth, and Families.
Before joining the bench, Justice Bridge was the first female partner at the Seattle law firm of Garvey Schubert Barer. She has been honored with numerous awards for her civic involvement, philanthropy, and service to children and youth.
Justice Bridge received her B.A., magna cum laude, Phi Beta Kappa, from the University of Washington and earned her M.A. and Ph.C. in Political Science at the University of Michigan, and her J.D. from the University of Washington School of Law.
Satana Deberry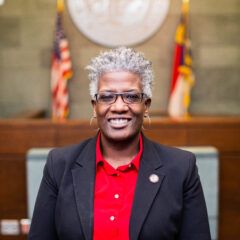 Satana Deberry serves as the elected District Attorney for Durham County. As District Attorney, she has prioritized the prosecution of serious offenses, implemented policies to reduce unnecessary pretrial incarceration and court involvement, and worked to improve trust and equity in the courts.
Throughout her career, Deberry has worked to dismantle systems that restrict the lives of poor people, families, communities of color, and other marginalized and underrepresented groups. She brings to the office of District Attorney extensive experience, having served as a criminal defense attorney in her hometown of Hamlet, North Carolina, General Counsel for the North Carolina Department of Health and Human Services, and executive director of the nonprofit North Carolina Housing Coalition.
Deberry is a recipient of the North Carolina Justice Center's 2020 Defender of Justice Award for Litigation, the Duke Law Alumni Association's 2020 Charles S. Murphy Award for Civic Service, and Attorney General Josh Stein's Dogwood Award. She received her AB in Sociology from Princeton University, her Juris Doctor from Duke University School of Law and her master's in Business Administration from Duke University's Fuqua School of Business. She is a mother who enjoys spending time with her active teenage daughters.
Parisa Dehghani-Tafti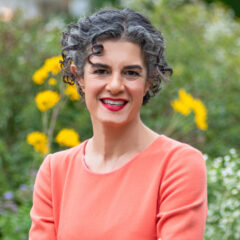 Parisa Dehghani-Tafti is the Commonwealth's Attorney for Arlington County and the City of Falls Church. CA Dehghani-Tafti was first elected to a four-year term in November 2019. She has a twenty-year record of criminal justice reform as an innocence protection attorney, a public defender, and a law professor. As an innocence protection attorney, she served as the Legal Director for the Mid-Atlantic Innocence Project, where she helped exonerate innocent individuals who were wrongfully incarcerated. She litigated at all levels of state and federal courts, including the United States Supreme Court and the Supreme Court of Virginia. As a public defender with the District of Columbia's Public Defender Service, she litigated cases of constitutional magnitude and won the first DNA exoneration in DC. As a law professor at Georgetown University Law Center and at George Washington University School of Law, she has helped train the next generation of criminal law attorneys, teaching courses on wrongful convictions.
CA Dehghani-Tafti earned a B.A. in Philosophy and Comparative Literature from the University of California, Berkeley and a J.D. from the New York University School of Law.
Mark A. Dupree, Sr.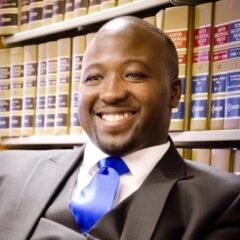 Mark Dupree is the two-term District Attorney of Wyandotte County and leads an office of over 60 employees and manages a significant budget each fiscal year. D.A. Dupree and his team of employees are implementing strategic and visionary policies to expand the function of the Wyandotte County District Attorney's Office.
D.A. Dupree has successfully created the first ever "Conviction Integrity Unit" in the state of Kansas, since re-named "Community Integrity Unit" which is responsible for ensuring that convictions obtained previously still hold integrity today and holding law enforcement accountable with the establishment of a hotline for residents to register complaints. His efforts for transforming the traditional manner in which District Attorney's Offices have operated has been recognized nationally, with articles featured twice in the New York Times and interviewed on the nationally syndicated Roland Martin Show.
Community involvement is the bedrock of the Dupree Administration. It builds community trust, and that trust greatly assists in crime prevention and bringing justice. Mr. Dupree and his administration lead the way in speaking at schools, neighborhood watch meetings, church gatherings, and civic organizations.
George Gascón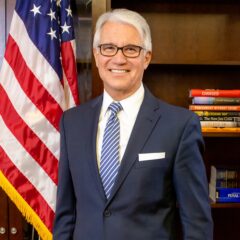 On Dec. 7, 2020, George Gascón was sworn in as the 43rd District Attorney of Los Angeles County, delivering his visionary approach to criminal justice reform to the nation's largest local prosecutorial office. Gascón, who rose through the ranks of the Los Angeles Police Department from patrol officer to Assistant Chief of Police under Bill Bratton, served as Chief of Police in Mesa, Ariz., before being named Chief of Police in San Francisco by then-Mayor Gavin Newsom.
In 2011, Newsom tapped Gascón to fill the District Attorney vacancy created by Kamala Harris' election to California Attorney General. The Cuban-born attorney became that city's first Latino police chief and the nation's first police chief to become District Attorney.
During his two terms in office, Gascón decreased San Francisco's jail population by nearly 30% and reduced violent crime to historic lows. He was the nation's first District Attorney to call for an end to cash bail and first to launch an automatic record-clearing program for marijuana convictions following legalization.
Gascón created California's first independent investigation bureau to enhance transparency and limit the conflict of interest that occurs when police agencies investigate themselves. He was the state's only District Attorney to support a law creating stricter standards for police use of force.
Gascón holds a Bachelor of Arts in History from California State University, Long Beach, and a Juris Doctor Degree from Western State University, College of Law.
He is married to Fabiola Kramsky, a three-time Emmy Award-winning journalist.
Dan Satterberg  
Dan Satterberg retired as King County (Seattle, WA) Prosecuting Attorney at the end of 2022. He served in the office for more than three decades and was first elected to lead it in November 2007. King County has more than 2.1 million residents, making it the thirteenth-largest county in the United States.
As Prosecuting Attorney, Dan Satterberg was committed to reforming the criminal justice system by partnering with those communities most impacted by crime. Through such community partnerships, he created successful programs to keep young people engaged in school and to divert youth from the courtroom to a motivational intervention called "The 180 Program." His office also partnered on diversion programs to help families with juvenile domestic violence and is using restorative justice strategies to address youth violence.
Under Mr. Satterberg's leadership, the King County Prosecuting Attorney's Office was a founding partner in the creation of Law Enforcement Assistant Diversion (LEAD), a national model for creating a compassionate response to drug-addicted people that provides police with additional tools for responding to individuals struggling with addiction and mental health challenges. He also serves as the co-chair of the Washington State Reentry Council and is committed to reducing recidivism among people leaving jail and prison.
Mr. Satterberg graduated from the University of Washington undergraduate (Political Science and Journalism) and Law School.