Young Adults in the Justice System
Research shows that young adult brains are different and the period from 18 to 24 is a critical window of opportunity for lasting change that shouldn't be squandered. It also tells us most adolescents and young adults will age out of criminal conduct, with or without justice system intervention, and that incarceration negatively impact this natural process. This FJP "Issues at a Glance" brief offers models of reform from across the country and recommendations to help prosecutors implement proven, compassionate approaches that give young people the support they need to be productive members of our communities.
"The evidence is clear: Children and young adults are different, the justice system must do better, and prosecutors can lead the way."

— DISTRICT OF COLUMBIA ATTORNEY GENERAL KARL RACINE
Improving Justice System Responses to Individuals with Mental Illness
Individuals with mental illness are significantly over-represented at every stage of the justice system. This FJP "Issues at a Glance" brief offers recommendations to prosecutors committed to improving responses to individuals with mental illness, increasing diversion, and reducing incarceration.
"There is a public health crisis in our nation surrounding mental health in the justice system. People's lives hang in the balance. Our communities need their leaders to get in this fight."

— PORTSMOUTH (VA) COMMONWEALTH'S ATTORNEY STEPHANIE MORALES
There are numerous opportunities for prosecutors to reduce the number of individuals with mental illness in the criminal justice system. This companion FJP "Issues at a Glance" brief on mental health offers implementation strategies, as well as examples and practices from around the nation, that model public health responses and cross-system interventions that can avoid criminalizing mental illness.
Community Prosecution and Engagement
Community prosecution models prioritize strengthening links to the community, promoting partnerships, and encouraging the development of problem-solving strategies to enhance public health and safety. This FJP "Issues at a Glance" brief highlights key principles and important considerations for developing community engagement and outreach – practices often referred to as "community prosecution."
"Community members should be able to see the tangible impact of the justice system on their streets and to participate more deeply in shaping criminal justice solutions."

— Los Angeles City Attorney Mike Feuer
Though they may look different in different jurisdictions, community prosecution programs take into consideration the unique history, needs, and resources of particular neighborhoods to help address community problems and concerns. This FJP "Issues at a Glance" brief provides a snapshot of community prosecution models from around the nation and also sets forth concrete recommendations for DAs interested in developing community prosecution programs and approaches.
"If [residents are] developing a relationship that is so close that they're looking at this person as somebody that gets problems solved, and not as a traditional prosecutor… that's when you know the concept is working."

— Milwaukee County (WI) District Attorney John Chisholm
Open and Early Discovery Practices
Discovery practices have a profound effect on ensuring fair case outcomes, expeditious resolution of cases, enhanced police accountability, and compliance with constitutional mandates. This FJP "Issues at a Glance" brief outlines how prosecution and defense alike benefit from open and early discovery. The brief offers a range of tools — from simple checklists to electronic Brady databases, to supervision and random audits — to ensure prosecutors share all relevant information in a timely and efficient manner, ultimately improving trust and accountability in the justice system.
"Prosecutors can have blind spots…[w]e get so convinced that the defendant is guilty. We really can't be the architects of deciding what's helpful to the defense and what's not."

— 5th Prosecutorial District (Wilmington, NC) District Attorney Benjamin David 
Restorative Justice
Trust between the community and the prosecutor's office is essential to the legitimacy and moral credibility of the justice system. This FJP "Issues at a Glance" brief discusses promising restorative justice practices and actionable strategies that have been shown to have a positive impact on building and fortifying community trust. Restorative justice seeks to repair the harm caused by an offense to victims and the community, while also advancing a deeper understanding by the individual of the consequences of his or her conduct. Read how prosecutors are using restorative justice practices as a way to better serve the community and to bolster public safety.
"I think the modern prosecutor has to recognize the humanity behind every case file."

— King County (Seattle, WA) Prosecuting Attorney Dan Satterberg
Fines, Fees and the Poverty Penalty
Fines and fees can impose immense burdens on justice-involved individuals, their families, and the governments tasked with collecting them. Instead of advancing public safety and increasing revenue, these charges can increase the likelihood of re-arrest and cost jurisdictions far more than the revenue they bring in. This FJP "Issues at a Glance" brief details the latest research on fines and fees and suggests concrete steps prosecutors can take to address this "poverty penalty" by changing office policies and practices and advocating for legal reform.
"It is time to live up to the guarantees of due process and equal protection enshrined in our Constitution and ensure fines and fees are reasonable, proportionate, and transparent."

— Marc Levin, Policy Director, Right on Crime
Conviction Integrity
Effective "Conviction Integrity Units" (CIUs) and other internal accountability mechanisms are a key part not only of reviewing potentially wrongful convictions, but also of learning from past errors and reducing the likelihood of future problems. This FJP "Issues at a Glance" brief addresses how prosecutors can improve office culture, strengthen community trust, and achieve the highest possible integrity in case outcomes by creating effective CIUs and implementing other policies that enhance transparency and accountability.
"It's about locking the right people up that commit crime, but it is also about making sure that we don't lock up the wrong people."

— Kansas City (Kansas) DA Mark Dupree
Police Accountability
Prosecuting attorneys' relationship to local law enforcement, including their response to allegations of officer misconduct, is an area of profound community concern and increasing public scrutiny. This FJP "Issues at a Glance" brief addresses how prosecuting attorneys can best ensure constitutional and legal policing in their jurisdictions and seek criminal accountability, where appropriate, for police officers who have violated the law.
"We need to be transparent and held accountable… I want to give the public the opportunity to hear from me personally why I made the decision not to prosecute the officers… and also give them the opportunity to ask any questions about the reasoning and the basis for the decision."
— Denver (CO) District Attorney Beth McCann
Trauma-Informed Juvenile Justice
Drawing on research findings that show trauma and toxic stress harm juvenile and young adult brain development, this FJP "Issues at a Glance" brief offers recommendations for incorporating trauma-informed practices into a prosecutor's office. Tools for prosecutors include changing office practices to avoid re-traumatization of youth, partnering with treatment service providers, and reducing secondary traumatic stress for office staff.
"We've tried arresting and prosecuting kids for just about everything, including minor, nonviolent first-time offenses…. It simply hasn't worked."
— 13th Judicial Circuit (Tampa, FL) State Attorney Andrew Warren
Procedural Justice
Research shows that court participants are more likely to comply with court orders and follow the law in the future when they perceive the court process to be fair. This FJP "Issues at a Glance" brief suggests strategies for strengthening community trust by improving the fairness of procedures that defendants and community members experience during a criminal investigation or prosecution. From simple measures such as using plain language whenever possible, to efforts aimed at reducing implicit bias, prosecutors can increase the legitimacy of their work in the eyes of the communities they serve.
"When we talk about criminal justice issues, most of the prison population looks like me…. [Y]ou all matter, your civil liberties matter. Your life matters. And we need to do a better job as prosecutors going forward to address those issues."
— St. Louis (MO) Circuit Attorney Kim Gardner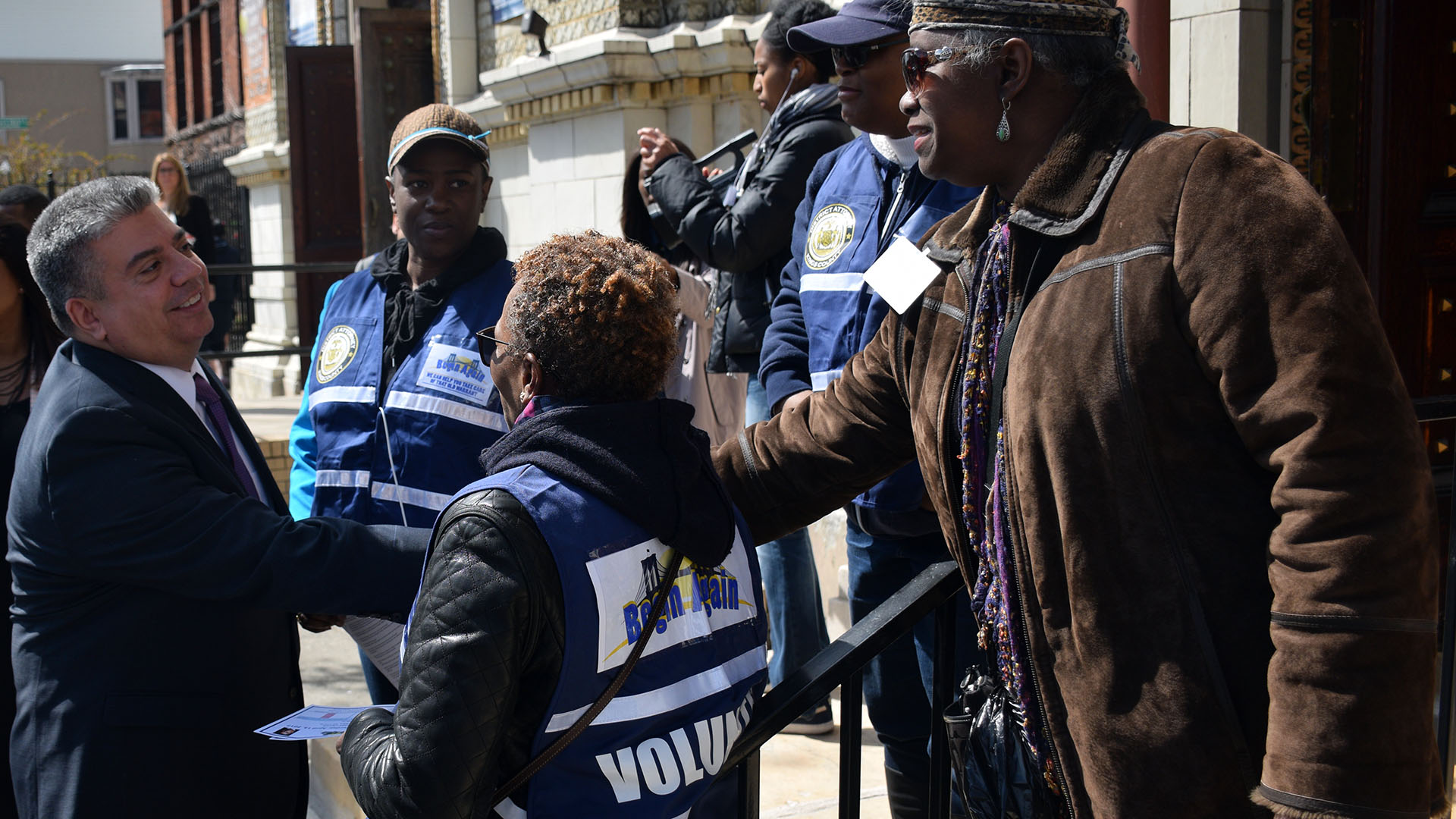 Bail Reform
Local prosecutors can help make communities safer and the justice system fairer by supporting the elimination of a money bail system, which penalizes defendants who cannot afford to post bond. Prosecutors should, instead, support a presumption of release where individuals present no risk of flight or danger to the community. This FJP "Issues at a Glance" brief discusses the prosecutor's role in reforming the money bail system to reduce pretrial incarceration and its potentially counterproductive effect on public safety and recidivism.
"Harris County's wealth-based bail system has for decades inflicted punishment on poor people before guilt has been proven, while releasing those with money into our communities even when the offenders were dangerous."
— Harris County (Houston, TX) District Attorney Kim Ogg
Marijuana Policy Reform
Prosecutors can help reduce overly punitive responses to marijuana and other drug charges. This FJP "Issues at a Glance" brief discusses the prosecutor's role in marijuana policy reform and provides guidance to prosecutors considering approaches that promote a more equitable justice system, save resources and avoid criminalizing individuals struggling with drug addiction. The brief includes recommendations for prosecutors' offices based on the wide spectrum of approaches in place around the nation — from cite-and-release programs to the legalization of marijuana.
"At 107,000 cases over the last 10 years, we have spent in excess of $250 million collectively prosecuting a crime that has produced no tangible evidence of improved public safety…[T]he collateral damage to our workforce is immeasurable…we have disqualified, unnecessarily, thousands of people from greater job, housing and education opportunities by giving them a criminal record for what is in effect a minor law violation."
— Harris County (Houston, TX) District Attorney Kim Ogg
Immigration
Federal immigration law imposes additional — often severe — penalties when a noncitizen receives a criminal conviction, and federal immigration enforcement practices can have a chilling effect on crime reporting and victim engagement. This FJP "Issues at a Glance" brief discusses the prosecutor's role in addressing federal immigration consequences and advancing strategies aimed at preserving community trust and ensuring a justice system grounded in equity and compassion.
"There's certainly a line of argument that says, 'Nope, we're not going to consider all your individual circumstances, we want to treat everybody the same. But more and more, my eyes are open that treating people the same means that there isn't a life sentence of deportation that might accompany that conviction."
— King County (Seattle, WA) Prosecuting Attorney Dan Satterberg
Diversion
Prosecutors serve as gatekeepers to the criminal justice system — they often decide who goes into the system, and who gets a second chance. This FJP "Issues at a Glance" brief offers guiding principles for implementing alternatives to incarceration and developing diversion programs, and lists a sampling of programs currently in use across the country. When tailored to a jurisdiction's unique needs, these programs can reduce criminal justice costs, limit unnecessary individual contacts with the justice system, and reduce the potentially harmful long-term consequences of such contacts, while also enhancing public safety.
"Together we are working hard to create a balance between prosecution, prevention/intervention, and awareness, with innovative programs and initiatives inside and beyond the courthouse walls."
— DeKalb County (Decatur, GA) District Attorney Sherry Boston