Information and Resources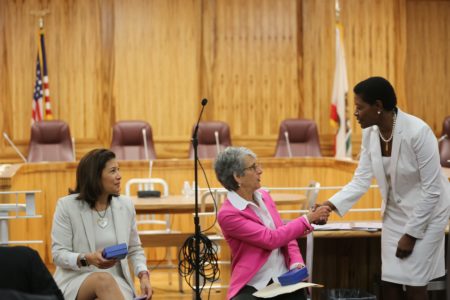 FJP Immigration Brief
Federal immigration law imposes additional — often severe — penalties when a noncitizen receives a criminal conviction, and federal immigration enforcement practices can have a chilling effect on crime reporting and victim engagement. This FJP "Issues at a Glance" brief discusses the prosecutor's role in addressing federal immigration consequences and advancing strategies aimed at preserving community trust and ensuring a justice system grounded in equity and compassion.
"The Prosecutor's Role in the Current Immigration Landscape"
As deportations are increasingly triggered by minor convictions and immigration enforcement efforts are expanding, there is mounting anxiety and distrust within the immigrant community. Prosecutors need to be acutely aware of these concerns. This article discusses immigration consequences – often unintended — that flow from criminal convictions; explores the ways in which federal immigration policies and consequences raise community trust and safety concerns; and provides suggestions for prosecutors interested in engaging in this issue moving forward.
"[Lawyers] should know what happens after a prisoner is taken away" to better understand "the hidden world of punishment."

— Associate Justice Anthony M. Kennedy, Supreme Court of the United States
Over 40
Elected Prosecutors and Attorneys General Call Upon Department of Justice to Respect Prosecutorial Discretion
Prosecutors are ministers of justice charged with protecting their community and the integrity of the justice system. That's why forty-three local elected prosecutors and state Attorneys General from across the country filed an amicus curiae brief in response to Attorney General Barr's call for feedback on a potential rule change that would give federal authorities unlimited ability to consider past convictions and sentences as grounds for deportation from the United States, even when those convictions are minor or deemed unjust and have been vacated or modified by local prosecutors or judges. Amici argue that the proposed rule change would break with decades of precedent, infringe on state sovereignty, and impair the ability of elected prosecutors to enforce their own criminal laws and exercise prosecutorial discretion in the interest of their own community's safety. It would also put countless immigrants at new risk of deportation, including in cases where past convictions and sentences were revisited based on defects in the underlying cases. Read the press release here and full brief here.
Prosecutors and Law Enforcement Leaders Oppose End of DACA and Local Entanglements in Federal Immigration Enforcement
Deferred Action for Childhood Arrivals (DACA) Litigation – Eighty elected prosecutors and law enforcement leaders across the country defended the DACA program as critical to public safety in an amicus brief filed in the Supreme Court of the United States. The brief underscores the program's impact on public safety, arguing that without DACA community trust will be eroded and many immigrants will be less willing to report crimes and cooperate as witnesses out of fear of deportation – ultimately harming public safety.
City and County of San Francisco v. Trump and County of Santa Clara v. Trump Litigation – Nearly 40 elected DAs, State Attorneys, Police Chiefs and Sheriffs from around the nation filed an amicus brief challenging federal efforts to impose immigration enforcement conditions on localities. The brief argues that an Executive Order which seeks to strip federal funding from so-called "sanctuary jurisdictions" threatens to undermine community policing efforts designed to build trust with immigrant populations. The brief also notes that detention of individuals under ICE detainers who would otherwise be released from custody has been found by federal courts across the country to violate the Fourth Amendment of the United States Constitution.
"Community trust and cooperation are essential to public safety, and sound police work as well as successful prosecutors' efforts are undermined by undocumented immigrants' fears of interacting with law enforcement and the justice system."
Los Angeles v. Sessions Litigation – Over 30 elected prosecutors and law enforcement leaders filed an amicus brief supporting a federal lawsuit by the city of Los Angeles challenging the Justice Department's decision to show preferential treatment in awarding COPS grants – a crucial resource for community policing – to cities that pledge assistance with federal immigration enforcement. Read the press release here and the amicus brief here.
Chicago v. Sessions Litigation – Twenty-three prominent elected prosecutors and law enforcement leaders filed a brief challenging federal grant conditions that seek to involve local law enforcement in immigration enforcement duties. Read the press release here and the Amicus Brief here.
"Too Big to Succeed: 
The Impact of the Growth of Community Corrections and What Should be Done About It"
A new report from the Columbia University Justice Lab looks at concerns associated with the exponential growth of probation and parole, with nearly five million adults in the U.S. now under community corrections supervision. Click here to read the report.
Speaking Out
"A prosecutors' leadership retreat in Berlin offers a stark reminder to remain vigilant"
Courageous leadership requires disrupting norms and taking a stand. As fear-based narratives and efforts to marginalize some of the most vulnerable in our community are mounting, we need a new generation of leaders who are unwilling to remain silent in the face of erosion of rights and liberties. Some elected prosecutors are stepping up to this challenge. In an ABA Journal op-ed, FJP Executive Director Miriam Krinsky shares the personal journey that sparked her commitment to prosecutorial reform and weighs in on how elected prosecutors can take bold action to protect our system of justice and the rights of all.
"Assaults on truth and fairness can only succeed if leaders, and all of us, are enablers."
"Millions of Children Lose Their Parents To Incarceration. That Doesn't Have To Happen."
One out of every 28 children has a parent who is currently incarcerated and one in four black children will have their father incarcerated by the time they turn 14. That's millions ofchildren not only experiencing the pain and stigma of having a parent behind bars, but also the myriad adverse consequences that come along with it. In a new op-ed in The Appeal, We Got Us Now Founder and CEO Ebony Underwood and FJP Executive Director Miriam Krinsky discuss the role prosecutors can play in revisiting past excessive sentences, recommending noncustodial and community-based sentences for parents whenever possible, and advancing policies that keep families connected when loved ones are behind bars.
"Every time we incarcerate someone, new victims are created who are rarely acknowledged: the children, families and loved ones of those incarcerated."
"DACA makes our jobs easier and communities safer"
DACA helps police and prosecutors keep communities safe. In a new op-ed in The Hill, Washtenaw County Sheriff Jerry Clayton, Nueces County District Attorney Mark Gonzalez and FJP Executive Director Miriam Krinsky discuss how DACA fortifies trust between law enforcement and communities and why they joined 80 law enforcement and criminal justice leaders in an amicus brief before the Supreme Court defending the program.
"Put simply: DACA makes our jobs easier and, in turn, our communities safer."
"Review of Past Excessive Sentences Will Be Needed To Address Mass Incarceration. DAs Can Lead the Way."
Ending mass incarceration will require taking bold action and revisiting past excessive sentences. In a new San Francisco Chronicle op-ed, elected prosecutors Eric Gonzalez (Kings County, NY) and Dan Satterberg (King County, WA) and FJP Executive Director Miriam Krinsky weigh in on San Francisco District Attorney George Gascón's newly proposed Sentence Review Unit and the importance of a "second look" process where prosecutors comprehensively review, identify and seek adjustments in past excessive sentences. Reforms like these are essential to creating a fair and equitable system that provides relief to those serving overly harsh sentences who can be safely returned to our communities.
"It's time to correct decades of increasingly harsh sentences and take to heart that justice is done not by keeping people in prison just because we can, but by letting them out when their individual circumstances indicate it's the right thing to do."
"If Lawmakers Don't Give Former Inmates a Second Chance, They Will Be Defying the Will of Floridians"
Safe communities require a commitment to second chances where access to resources and rights like education, employment, housing and voting are not restricted because of a prior conviction. In a Miami Herald op-ed, State Attorneys Kathy Fernandez Rundle (Miami-Dade County, FL) and Andrew Warren (Hillsborough County, FL) along with FJP Executive Director Miriam Krinsky weigh in on why voting rights restoration is key to successful reentry and meaningful second chances and how Florida's Amendment 4 is critical to expanding opportunity for the 1.4 million Floridians with past convictions.
"Time to rethink probation and parole"
In a Philadelphia Inquirer op-ed, FJP Executive Director Miriam Krinsky and Philadelphia (PA) District Attorney Larry Krasner explain how probation and parole have become overused, too often serving as a conduit to re-incarceration rather than rehabilitation.
"These are the kinds of sensible policy changes needed to restore faith in our justice system, reduce the overly expansive scope of community corrections, focus assistance on those people most in need, reward people for good performance, and overall, increase public safety and rehabilitation."
Prosecutors and Law Enforcement Leaders Call for Ending the Overuse of Probation and Parole
Forty-five current and former DAs, AGs and prosecutor leaders joined more than 70 other prominent law enforcement, criminal justice, and community corrections leaders and organizations as signatories to a statement urging the enactment of changes to probation and parole, which currently affect nearly 5 million Americans and are a major contributing factor to unnecessary incarceration. The statement outlines strategies for addressing the harmful impacts of these practices by safely reducing the number of people under community supervision and reinvesting in rehabilitation efforts for those in need of supervision. Read the press release here and full statement here.
"Policies that send someone back to prison simply for technical violations of parole or probation do not keep our communities safer and come at an exorbitant cost to taxpayers… The achievable but impactful reforms outlined in this statement will deliver public safety more effectively and compassionately."

— MILWAUKEE COUNTY DISTRICT ATTORNEY JOHN CHISHOLM
"Federal immigration efforts create a barrier between police and community. And everyone will lose."
The federal government's efforts to entangle localities in immigration enforcement threatens to make American cities less safe, write FJP Executive Director Miriam Krinsky and former Albany, NY Police Chief Brendan Cox in an Op-Ed in USA Today. To best promote public safety, law enforcement must be trusted by the communities they serve. When local police officers are forced to act as extensions of ICE, that trust is eroded. Read the Op-Ed here.
"At a time when the Latino and immigrant communities' trust in law enforcement is already low, our government should be empowering local law enforcement to fortify those bonds of trust — not standing in the way."
"For a New Breed of Prosecutors, Justice Sometimes Entails a Second Chance"
People seeking to turn their lives around should not be forever defined by the worst thing they have done. King County (Seattle, WA) District Attorney Dan Satterberg speaks out about pursuing clemency for people with long criminal sentences imposed under Washington's three strikes laws and Wyandotte County (Kansas City, KS) District Attorney Mark Dupree talks about the importance of second chances. Read more here.
Addressing Immigration Issues
A group of California elected prosecutors wrote Attorney General Sessions objecting to immigration arrests in and around California courthouses. Read more here.
Denver officials, including Denver (CO) District Attorney Beth McCann, wrote to U.S Immigration and Customs Enforcement requesting that ICE avoid enforcement activities at sensitive locations including courts and schools. Read more here.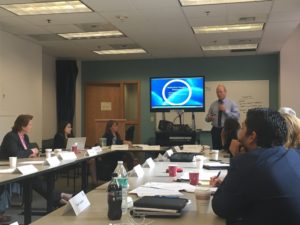 "Crackdown on Immigrants Undermines Public Safety"
King County (Seattle, WA) Prosecuting Attorney Dan Satterberg writes about how invasive immigration enforcement erodes trust between communities and the police and prosecutors that serve them. Read more here.
"Prosecutors Protect Immigrants from Deportation for Minor Crimes"
NPR interviews Brooklyn (NY) Acting District Attorney Eric Gonzalez about his policy on prosecuting immigrants for misdemeanors and his reaction to AG Sessions' directive to federal prosecutors. Listen here.
"Boulder's Strategies To Protect Immigrants From Fraud Could Go Statewide"
In an NPR interview, Boulder County (CO) District Attorney Stan Garnett discusses his efforts to protect immigrants from fraud and victimization. Listen here.
Examples of Innovation
Albany Clean Slate Programs
Albany County (NY) District Attorney David Soares launched a series of programs providing diversion, re-entry services, and expungement for eligible youth with felony convictions. Read more here.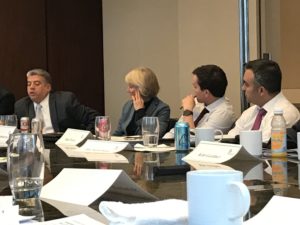 Addressing Immigration Consequences
Brooklyn (NY) Acting District Attorney Eric Gonzalez announced that deputies will take into account immigration consequences for noncitizens when selecting charges; Brooklyn office also hired immigration advocates. Read more here and here.
Policy changes by Brooklyn (NY) Acting District Attorney Eric Gonzalez, Santa Clara County (San Jose, CA) District Attorney Jeff Rosen, and Baltimore City (MD) State's Attorney Marilyn Mosby account for how low-level convictions may impact an individual's risk of deportation. Read more here.
Rehabilitation
San Francisco (CA) District Attorney George Gascón talks about how the justice system often misses the mark when it comes to rehabilitation and how his office is working to change that through engagement with incarcerated individuals. Read more here.
Dismissing Old Warrants
Acting Brooklyn District Attorney Eric Gonzalez joined other New York prosecutors in dismissing nearly 700,000 warrants for low-level offenses. Read more here.