James "Yaya" Hough is a Pittsburgh-based artist and painter. He was incarcerated at the age of seventeen and served twenty-three years before being released in 2019. While in prison, he took art classes and partnered with Mural Arts Philadelphia as a muralist. He has contributed to more than fifty murals and was the inaugural artist in residence at the office of Philadelphia District Attorney Larry Krasner. For more on James's work, see his Instagram account:
@hough9459
.
---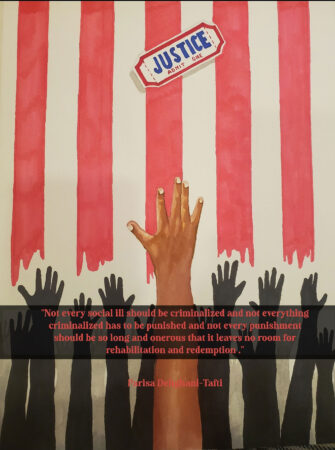 Artist's Statement
Parisa Dehghani-Tafti has said that she was inspired by James Baldwin's book
The Price of the Ticket
. In the painting, brown and Black arms reach upward to grasp a slowly falling ticket with the words "Justice Admit One" inscribed. The arms, emerging from a red-and-white-striped background, symbolize the number of people who—historically and currently—seek just outcomes from the U.S. justice system. In the foreground is a powerful quote from the Commonwealth's Attorney Dehghani-Tafti.